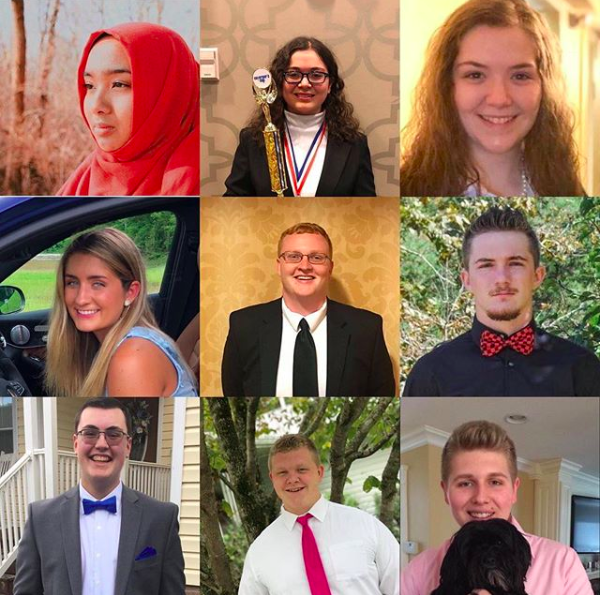 9 Chosen for GSP
Elijah Conley
Monday, April 22, 2019
The Governor's Scholars Program strives to enhance Kentucky's next generation of civic and economic leaders. Established in 1983, the program provides academic and personal growth through the balance of a strong liberal arts program with a full co-curricular and residential life experience. Students must complete an application and compete with others from across the state. Johnson Central High School had 9 applicants that were sent out of school to be chosen from the rest of the candidates across the state. The best part of this is that all nine of these candidates were chosen to go to GSP in the summer. These are the students who were selected.
Gary Austin Cantrell is the son of Gary Cantrell and Michelle Cantrell. He has a 34 on his ACT and intends to study Healthcare Industry, Historical Analysis, or Astronomy. He is also a UK Rising Scholar and a Robinson Scholar.

J.T. Dials is the son of Todd and Kim Dials. He has a 33 composite on his ACT and plans to study Biological and Environmental Issues at GSP. He is proud of his Governor's Cup Science State Championship and his victory as the Questions Unlimited National Academic Tournament Champion.
Lauren Hardin is the daughter of Charles Hardin, M.D., and Machelle Hardin. Her ACT composite score is a 29. She hopes to study Biological and Environmental Issues at GSP. She is a State Champion in Medical Innovations in Hosa. She also went on a trip to the Galapagos where she worked to "preserve nature's wonders." On the trip she painted on elementary schools, removed invasive species from tortoise habitats, and planted native plants to restore the island's natural habitats.

Ryley Preece, the son of Kent and Holly Preece, has a 27 on his ACT and plans on studying Healthcare Industry at GSP. He is very proud to say he is the starting varsity quarterback for JCHS and he was also an integral part of the 2016 State Championship winning team. A baseball standout, he was also named the EKB Player of the Week.

Jaxson Ratliff is the son of Nick and Amanda Ratliff. His ACT score is a 32. At GSP he wants to study either healthcare, music theory, or business. He is proud of the fact that he is a Roger's Scholar and a Hugh O'brian Youth Leadership Award recipient.

Nada Sofyan is the daughter of Agus Sofyan and Gina Rosita. With a 27 on her ACT she hopes to study visual arts at GSP. She is a champion in Engineering Technology and Design and a third place finisher in the state for Future Problem Solving.
Chrystalen Stambaugh is the daughter of Betina Tackett and Harold Stambaugh. With a 34 on her ACT she plans on studying philosophy at GSP. She is a Governor's Cup Arts and Humanities State Champion and is the President of United for H.O.P.E., which is a community service group under the American Legion.

Drew Stumbo, the son of Joey and Lisa Stumbo, has a "24 and rising" on his ACT. He hopes to study engineering, business, entrepreneurship, or music theory and performance at GSP. He has been a member of the KY Opry Jr. pros for 8 seasons and is involved greatly with the East Ky music scene with business, Stumbo Studios. He was also selected to travel to Europe in 2014 as a People-to-People student ambassador for 21 days.

Sarah Thompson is the daughter of Shawn and Kim Thompson. With a 34 on her ACT she plans to study either health or astronomy. Thompson was a State Champion in Individual FPS and is a Student Senator for the junior class.
Later this year these nine students will be informed on which college they plan on calling home for the summer and which area they will be studying while there. We at JCHS are extremely proud of these students.