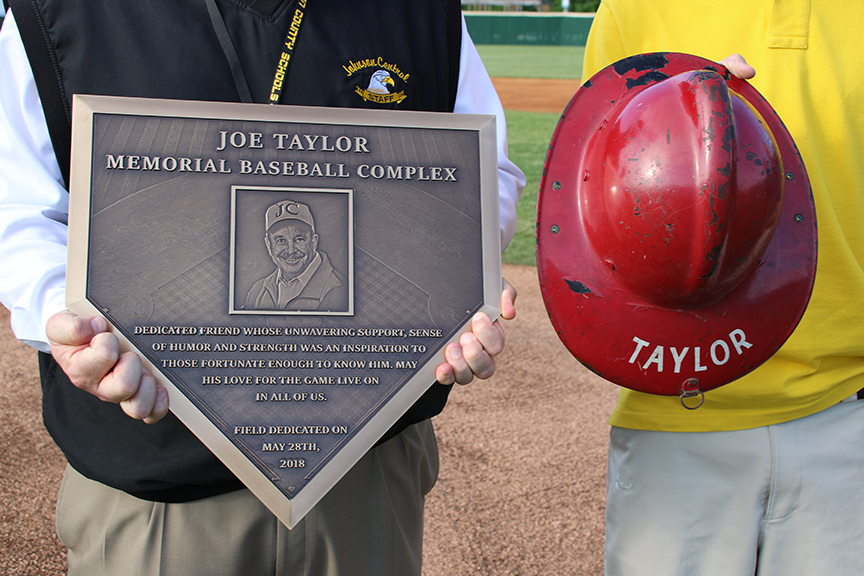 Long time JCHS Supporter Honored at JC vs Prestonsburg Baseball Game.
Todd Conley
Thursday, May 16, 2019
Story by: Kevin Conley
Photo: Todd Conley
ON MAY 5TH 2017, JOHNSON COUNTY LOST A LEGEND...WHEN LONG-TIME TRAINER, COACH, MENTOR, AND FRIEND TO EVERYONE HE MET...JOE TAYLOR PASSED AWAY.
FOR NEARLY 40 YEARS, JOE TAYLOR WAS A FIXTURE AT JOHNSON CENTRAL HIGH SCHOOL. HE ARRIVED IN PAINTSVILLE IN 1979 AS A 1ST BASE COACH FOR THE TRI-COUNTY YANKEES - A MINOR LEAGUE BASEBALL TEAM WITH THE NEW YORK YANKEES IN THE APPALACHIAN LEAGUE. HE LOVED THE AREA, PEOPLE, AND SCHOOL SO MUCH THAT WHEN THE YANKEES LEFT TOWN, JOE DECIDED TO STAY.
JOE TAYLOR BECAME OFFICIALLY EMPLOYED BY THE JOHNSON COUNTY SCHOOL SYSTEM IN 1987 AS AN ATHLETIC TRAINER AND SWIMMING INSTRUCTOR.
HE ALSO SERVED AS A TRAINER FOR THE SCHOOL'S SWIMMING, WRESTLING, TRACK, FOOTBALL,BASKETBALL, AND BASEBALL TEAMS. JOE RETIRED FROM JOHNSON COUNTY SCHOOLS IN 2002. JOE RETIRED FROM JOHNSON COUNTY SCHOOLS IN 2002, BUT REMAINED A STAPLE AT JOHNSON CENTRAL ATHLETIC EVENTS, AS WELL AS AT THE JCHS CAFETERIA FOR MANY YEARS. DURING HIS LIFE, JOE CONTINUALLY SPENT HIS TIME AND ENERGY, RESOURCES, AND LOVE ON OTHER,ESPECIALLY STUDENTS.
JOE WAS INDUCTED INTO THE JOHNSON CENTRAL HIGH SCHOOL HALL OF FAME IN 2007.
On May 15, 2019, WE HONOR THE MEMORY AND LEGACY OF JOE TAYLOR BY OFFICIALLY RENAMING AND INCLUDING ALL ATHLETIC VENUES AT JOHNSON CENTRAL HIGH SCHOOL IN THE NEWLY FORMED "JOE TAYLOR SPORTS COMPLEX".