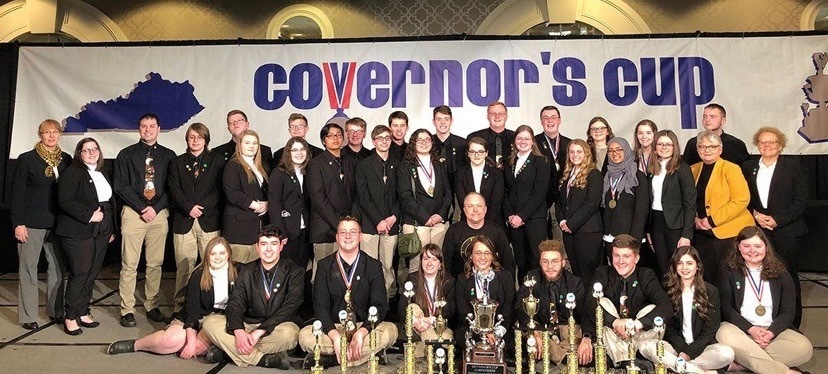 Thirty-Second Time's a Charm
Blake Cochran
Wednesday, March 27, 2019
It was 1987 when Johnson Central High School made their first appearance in a Governor's Cup District Competition, and since then, it has been an uphill battle for this academic team. For over three decades, Johnson Central has marched towards a state championship in academics, sometimes not advancing past districts or regions, and other times, losing at state by just a few points. However, this year, on March 18, 2019, the Johnson Central Academic Team captured their first Governor's Cup State title in school history.
This year, the academic team, coached by Brenda Porter, was determined to win. The Quick Recall team advanced to the quarter finals after a successful run; however, they were eliminated in a hard fought match against Paul Laurence Dunbar High School. The Quick Recall team contributed a much needed 5.25 points towards Central's overall state championship. Jolene Fairchild, a 2015 language arts state champion, finished in 6th place, bringing in 5 more points to Central's point total. JT Dials, who answered 45 questions correct out of a 50 question science test, rightfully became the state champion in science. Dials racked up 10 points for this individual win.
Chrystalen Stambaugh was also crowned a state champion, answering 46 questions correct out of a 50 question arts and humanities test. Stambaugh also pulled in 10 points for this victory. However, Stambaugh wasn't the only person to place in arts and humanities. Megan Owens followed closely behind in 3rd place, providing Central with 8 points, and Caree Meek placed 8th, which gave Central another 3 points. This is the first time in over 10 years that all three individuals placed in the arts and humanities category from Johnson Central. Brandon Fairchild, while he did not make top 10, came in 11th place in social studies and served as the Quick Recall team's captain. Austin Cantrell tested in math and served as a crucial member of the Quick Recall team.
At that point, Johnson Central could almost taste the win; however, they still trailed by 8.75 points to Henderson High School. Then, Johnson Central's Future Problem Solving team, consisting of Blake Cochran, Sarah Thompson, Savanna Holbrook, and Nada Sofyan, was able to solidify the state championship. The future problem solvers, coached by Haley Stacy, placed 3rd, earning 10 extra points for the academic team. These points allowed Johnson Central to graze past Henderson.
The final standings were Johnson Central with 51.25 overall points and Henderson with 50.
Other individuals deserving recognition are Peyton Duncan, Riley Castle, Megan Hudnall, and Meredith McNally. Peyton Duncan was a state champion in Scenario Writing. This makes her 8th consecutive year placing in the top 5 in Scenario. Meredith McNally received 3rd place in Scenario. Riley Castle earned 3rd place in the FPS alternate competition. Megan Hudnall became a state champion for her individual CmPS Project: Project Hayley's Box.
Congratulations to Johnson Central High School for this academic state championship! You know what they say, the thirty- second time's a charm.